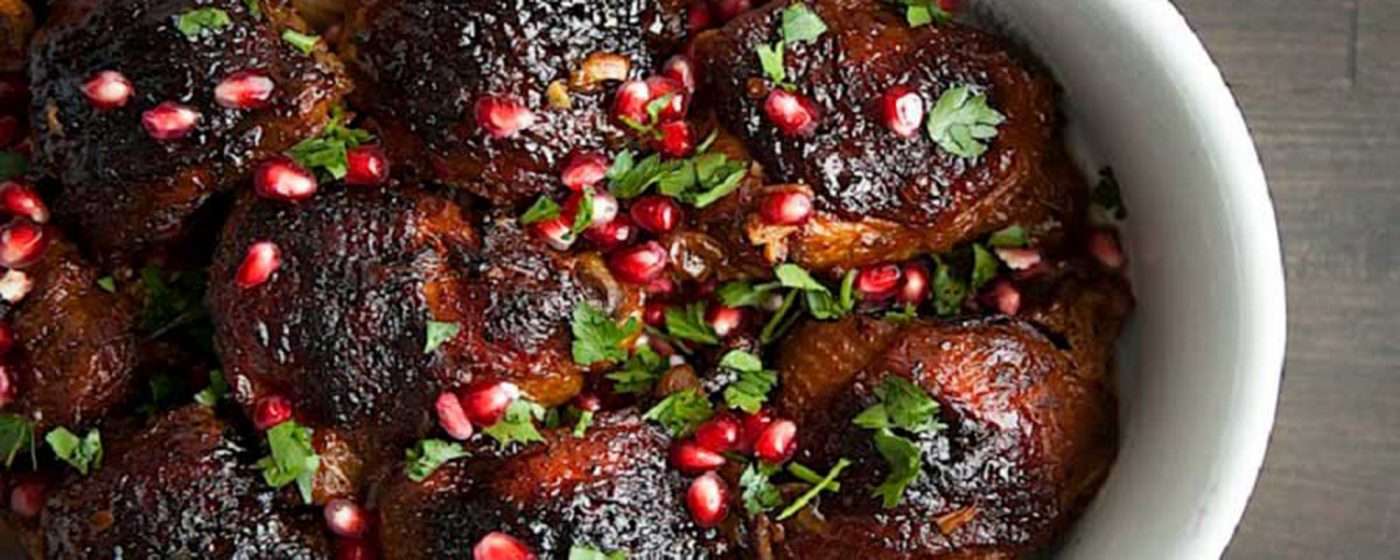 Anar Avij Stew (Pomegranate, Walnut, and Herb Stew)
First, you need to buy the herbs mentioned in the ingredients, chop them, and sauté them in a pan and put them aside. Grate the onion, put it inside a pan, sauté them with a bit of turmeric until the color of the onion turns gold.
Mince the walnut based on the recipe. Knead the ground beef with some salt, pepper, and herbs. Some people use chicken instead of beef in the stew. Now, sauté the previously sauteed herbs along with walnut, and onion and season them with salt and pepper, and pour them into a pot. (this stew is originally cooked inside a traditional vessel called Gamaj which is made of clay)
Sauté the tomato paste, pomegranate, and plum molasses and pour it inside the pot. For more sourness, you can add more sour pomegranate molasses or some verjuice.
Make meatloaves out of the kneaded ground beef and fry in oil. Put that pot on a gentle heat so that the walnut is cooked and the walnut oil appears on the stew. So, it is important to put it on gentle heat or use a piece of ice instead. After it is done, you can add the meatloaves to the stew and serve it to your friends and family.
Ingredients:
Ground beef: 350 g
Minced walnut: 250 – 350 g
Sour pomegranate molasses: 2 tbsp
Plum molasses: 1 tbsp
Onion: 1
Chopped herbs: 250 g (100 g of leek, 80 g of parsley, 50 g khalvash, and 50 g mint). You can use more mint instead of khalvash
Tomato paste: 1 tbsp