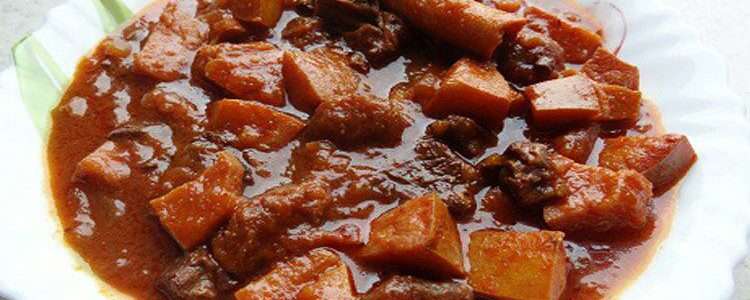 Beh Aloo Yazdi Stew
Start with pouring a bit of oil and let it heat up. Then add the chopped onions. After the color of onions turns gold add the lamb pieces and fry them completely. At this time, turn up the heat a little so that the lamb is fried quicker.
Then add the previously washed and soaked to the rest of the ingredients. At this point, sauté the split peas a little. After a few minutes, flavor them with salt, pepper, turmeric, and tomato paste and mix them completely. Then add some water to the pot and wait till it is half cooked.
After a few minutes, add the previously soaked plums with their water to the stew. And about the quince peel them and after separating the seeds chop them in medium sizes and sauté in a little bit of oil and finally add saffron and sugar to the stew.
Ingredients:
250 g soaked plum
split peas, half a cup (75 grams)
Sliced onion 1 (140 g)
Frying oil to the extent necessary
thigh chopped meat of lamb or calf 400 g
Turmeric powder 1 tablespoon (6 grams)
Saffron pulverized and dissolved in boiling water 1 tablespoon (14 ml)
In a split-second number (520 g)
Tomato paste 2 tablespoons (30 grams)
sugar 3 tablespoons (39 grams)
lemon juice 2 tablespoons (28 ml)
Black pepper powder and salt as necessary