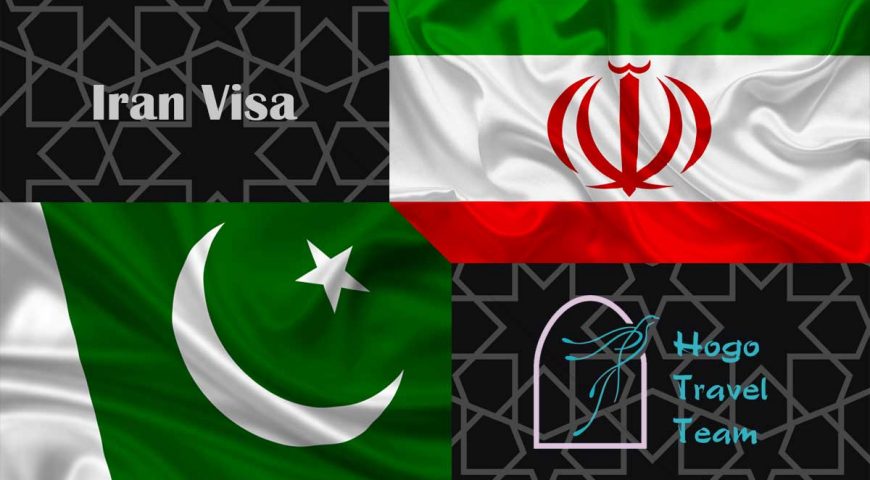 Iran Visa fee from Pakistan
The Islamic Republic of Iran has many interesting sites,rich culture, and spectacular monuments. It attracts many visitors from allover the world. You may travel to Iran for sightseeing, cycling,mountaineering, etc. Although as a tourist you are not allowed to work or run abusiness in Iran. So, Iran tourist visa will be granted to those who want totravel to Iran and go back to their country.
Each person with a different nationality than Iran who is wishing to enter this country must obtain an Iran Visa. There are various types of visas ranging from a tourist visa to the immigrant visa.
Depending on the demand and qualifications of the foreignersthe embassy may issue different visa types. However, we suggest that youreceive your visa before traveling to Iran and before the arranged departuredate. Hogo Travel will help you in the process. You can sit back and let us dothe job for you.
The visa types fall under two major categories:
Non-immigrant visa (for those who stay in Iran temporarily)
Immigrant visa (for those who want to stay in Iran permanently)
In this article, our main focus is on those who wish to stay in Iran for a short while or those who want to receive an Iranian Tourist Visa.
How Can the Citizens of Pakistan apply for Iran Visa?
Iran and Pakistan have good relations and that makes theterms of getting an Iranian visa a lot easier. However, it is not possible forPakistani citizens to get a Visa on Arrival. The only ways to get an Iranianvisa is through the local embassy or applying online. Since the April of 2017Iranian embassy has made it mandatory to apply online. They have developed aportal and website so people could apply easily without referring to theembassy. After processing the application you need to go on an interview at thenearest embassy or consulate.
Iran visa fee for the citizens of Pakistan
Citizens of Pakistan are required to pay Rs.1400/plus Rs.200/-pay order is only made by Habib Bank, Zamzama branch Karachi.
The procedure for Pakistanis to apply for an Iran Visa
The procedure starts with filling an Iran Visa Application form. You can get the form either through downloading it from the official website or through referring to the Iranian embassy. After receiving Iran visa application form fill it out correctly and completely. Now, you will have to choose the type of visa you want to apply and schedule the time of your interview at the embassy
You need to fill the following information:
Phone Number
Purpose of Visit
Passport Number
Residential Address
Duration of Stay
The Cities and Spots YouWish to Visit
Processing Fee
Period of the days yourequire the Visa
You are required to submit other documents with your VisaApplication Form. These documents are your National Identity Card and Passport alongwith their copies, two recently taken photos, and Medical Certificate.
Females who travel alone to Iran should submit the father orthe husband's consent letter. Otherwise, the application form will not beconsidered.
After filling the Iran Application form and collecting allthe documents needed, you will have to present the documents and passport tothe Iranian embassy in Pakistan.
You should refer to the Iranian embassy from Monday to Thursday between 9:00 AM to 12:00 PM. You are also required to pay the visa fee in order to apply for Iran Visa.
Once your Iran Visa Application is approved, you need tocollect your passport and documents from the embassy from Monday to Thursday,02:30 PM to 03:30 PM. We recommend calling before you go to the embassy so asnot to waste your time.
If you want to personally visit the embassy in order to apply for a visa, make sure you have prepared all the following documents:
4 recently takenphotographs
A valid passport for 6months
A printed copy of yourpassport
Visa fee
And completely filled IranVisa Application form along with a copy
Note:
1) The working hours of the Visa Application Department are from 9 AM to 12 PM.
2) Keep in mind that the embassy may ask further for otherdocuments and requirements while you are applying for Iran Visa
Tourist Visa
Foreign travelers who wish to visit Iran for touristic purposes or those who travel to Iran for medical treatments are eligible to apply for this visa. Iran visa is valid for 3 months (in other words you can enter Iran for up to 90 days after the issuing date). In addition, Maximum duration of stay is 30 days. You are also able to extend it for three times inside Iran. However, the applicant can apply for a visa through an embassy or consulate of Iran in the desired country or upon arrival at Iran's international airports.
If you don't want to get rejected or not to be allowed toenter Iran (not getting a visa on arrival), you can fill a Visa ApplicationForm through our website and make the process a lot easier.
Two ways of obtaining Iran Visa:
Completing an E-Visa Application Form is mandatory either bythe applicant or by the travel agency before flying to Iran. It will take atleast 48 hours to be approved. It might also be eligible for you to get a VisaOn Arrival (VOA) so it is not always necessary. However, we recommend gettingyour visa before the departure, since there is the possibility of rejection.The procedure is simple; you just need to take the following steps:
Fill out our online VisaApplication Form
Wait for the confirmationreceipt and payment methods
Pay the visa fee
Receive the VisaAuthorization Code after the process of the sent application
Refer to the Iranianembassy or consulate in order to obtain your visa
After the process is done you are able to explore Iran forup to 30 days and you can enter Iran within 90 days after the Visa is issued.
Iran Visa On Arrival (VOA)
It is another way of obtaining Iran Visa that you are ableto pick up your visa at any of the international airports in Iran; theseairports include Imam Khomeini Airport (IKA) in Tehran, Mehrabad Airport ofTehran, Shiraz Airport, Mashhad Airport, and Tabriz Airport. But it might berisky to get a VOA.
After arriving at the airport, you will see a Visa on Arrival sign. In case you couldn't see the sign ask the staff and they can direct you. You only need to fill a simple form with all the information, validate your travel insurance and get it stamped in another counter, pay the fee and submit your passport at the counter. Then you have to sit and wait for about 15 to 20 minutes. Once your name is called, you should pick up your passport and go to the immigration counter.
You'll need to submit the following documents in order toget an Iran Visa on Arrival:
A passport with at least 6months of validity
A confirmed return ticketwithin 30 days time frame
A photo for attaching tothe Iran Visa Application form
Valid travel insurance toshow to the related counter (in case you don't have one, you can buy oneonline)
Visa stamp fee (which youshould pay to the Iran visa and passport counter at the airport): The costdepends on the nationality of the applicants.
A hotel reservation voucheror an invitation letter: the invitation letter should be sent by the travelagency at least 48 hours before arriving at the airport.
The process of obtaining an Iran Visa on Arrival is now alot easier, despite the invitation letter, getting an authorization code andembassy interviews that have been mandatory for a few years. But overall we cansay that the process is getting easier.
Note: Iran Visa on Arrival will not be granted to the citizens of the US, UK, Canada, Colombia, Somalia, Bangladesh, Jordan, Iraq, Afghanistan, India, and Pakistan.
Setting planning and familiarization with the requirements aside, you can present your visa application at the nearest embassy or consulate of the Islamic Republic of Iran. In some countries such as the US or UK, you are able to send your visa application to the Iranian embassy through mailing and they will send you back the stamped visa if you are eligible to get one. We recommend that you consult with a reliable agency, so you wouldn't get rejected.
Fees you have to pay to get an Iranian visa
Based on the different procedures, steps you take to obtainan Iran visa and your nationality you need to pay different amounts from 10-150Euros to receive Iran VOA.
The visa stamp fee cost depends on your passport and your nationality (it depends on the applicant's country of origin). The amount is decided by the reciprocity in regards to the costs of the Iran Visa fee. It is worth mentioning that only local credit cards are accepted and any Non-Iranian debit or credit card is not accepted. You are required to pay the fee in cash and also in Euros.
The following table shows the costs mentioned by Iran MFA in2019. Though, the cost may change by the time you arrive at Iran airports. Sowe suggest bringing enough cash with you to avoid any inconvenience
Hogo Travel can apply for the visa authorization number on your behalf. We will provide the visa authorization number with a reasonable amount. Yet the stamp fee cost changes due to your nationality and also the embassy or consulate through which you get your visa stamped. Generally, it is less than the price you pay for VOA.
Insurance Fee
In addition to the visa fee and the service fee, you are required to have valid insurance which mentions Iran clearly; otherwise, you need to buy one. But you shouldn't be worried as it costs 14-20 Euros. You can purchase the insurance at the airport or in advance or through Hogo Travel.
Useful tips about what you should know before applying
Read these tips if you are willing to apply for a visa online, in order to avoid any rejection:
1) Visa Types: The e-visa portal is defined for allforms of visa, so you should not be worried. However, the citizens of some countriesshould apply in person through the relevant embassy or consulates of theIslamic Republic of Iran.
2) Passport Expiration date: Applying through theelectronic visa portal requires a passport with at least six months of validityadded to the travel date. So you have to make sure that it is valid for atleast six months after the travel date.
3) The Validity of Visa: After receiving your visa stickeryou have to read the expiration date. If you fail to enter Iran within the timelimit it expires and you cannot enter Iran and you are required to apply for avisa again.
4) The Eligibility of Visa: The citizens of some countries are not allowed to enter the Islamic Republic of Iran. So, no visa will be issued for their citizens due to diplomatic and political conflicts.
Free Iran Tourist Visa
Generally, you cannot enter Iran visa without paying the visa fees but eight countries are eligible to get an Iran Visa for free. These countries are Armenia, Azerbaijan, Turkey, Bolivia, Georgia, Malaysia, Syria, and Venezuela.
If you are not holding the passport of one of thesecountries you have to pay the visa fee.
Exception: If you enter through the Kish Island (located in the southern region and inside the Persian Gulf) and you are the citizen of countries eligible for VOA you can get a free 14-day Iran tourist visa. However, as we said above Pakistani citizens need to get a visa beforehand. However, Portal