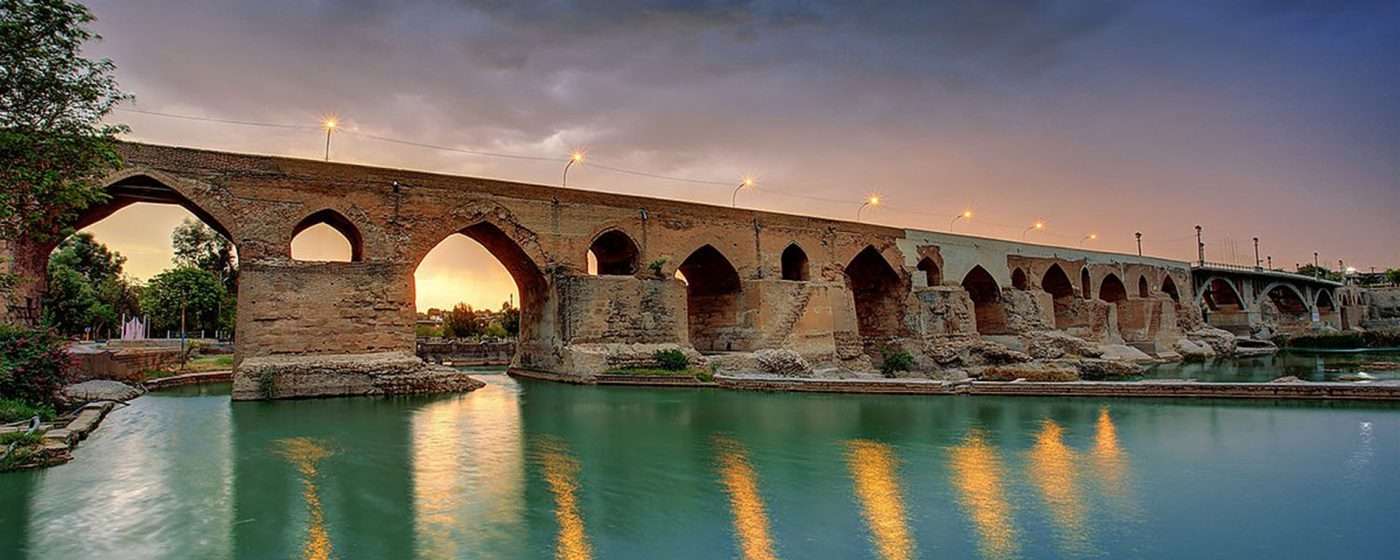 The Remains of The Bridge of Dezful
One of the oldest bridges of the world is located on the Dez River. Despite the passage of 10 centuries from its making, it is still a place of resort for pedestrians and cars. The bridge has connected the eastern and western sides of Dezful together for some years. In fact, it is an interface of Dezful-Andimeshk. However, the bridge is not spared from damage during the periods. After the construction, by the decree of Sassanid Shapur II, it was rebuilt and renovated several times in different periods. So, the bridge involves the architecture of three historical periods: Sassanid, Safavid, and Pahlavi.
Bridge piers are related to the Sassanid era and the anticline of the bridge is for the Safavid period; anticlines seem like the most beautiful arches in the Islamic period. The bridge deck that is made of new materials such as cement and metal is related to the time of Reza Shah Pahlavi and is the newest section of the building.
The bridge has three concrete spans at the center, which have been made in 1937 by English architects who attended Khuzestan. This 370-meter bridge with 14 spans is made of mortar, stone, and lime.
Since this bridge was built by Sassanid Shapur II with the help of Roman prisoners and a fortress was built near it to protect the bridge at the same time; ancient Dezful people called it the Roman Bridge or Dezh-pol. Some believe that the bridge is called "Ronash" or "Ronash Bridge" because of the proximity of Ronash city near the Dez River. So that the fortress along with the bridge was called "Ronash Palace". Consequently, the people in the region were called Qasri palace. But none of the names of this bridge are used today and more people prefer to call the ancient bridge of the city, the old bridge. The Grand Mosque of Dezful