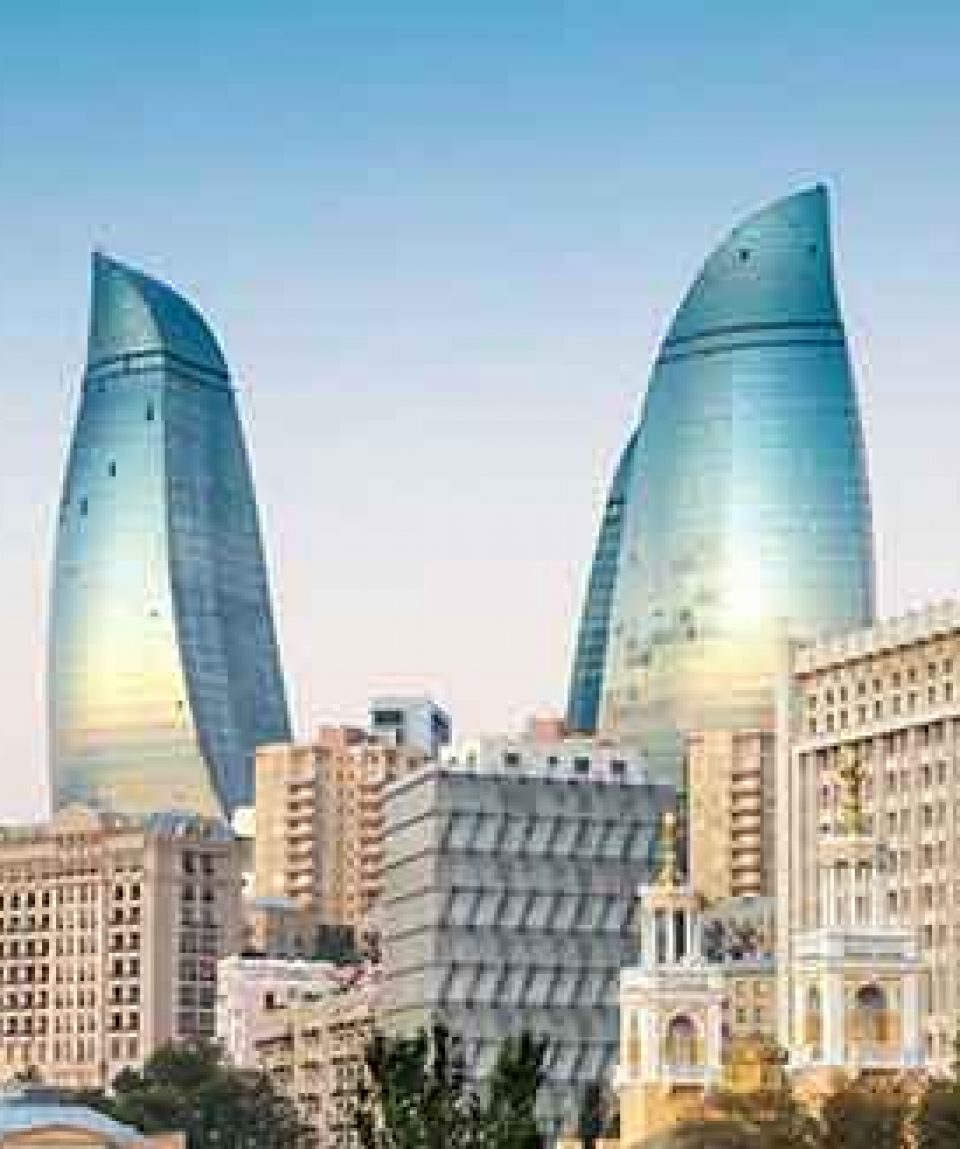 Iran-Azerbaijan Tour
On this incredible tour we go to Azerbaijan and Iran and see some of the major tourist attractions of these countries. We first spend a full day of sightseeing in Tehran. Then we visit Hamedan and its important monuments. Our next stop is Zanjan and we will visit Gonbad-e-Soltaniyeh. Then we arrive in Tabriz and spend three days sightseeing the main attractions. We drive to Nakhchivan ,visit St. Stephanus Church and other major attractions of this autonomous region. We fly to Baku, visit Baku's main attractions and also see the amazing view of Absheron Peninsula on the Caspian Sea. We visit the open air museum or Gobustan to see the rock paintings and the interpretive museum that illustrates the geologic changes that have occurred in the area. We will depart to Guba, visit Khinalig village and Krasnaya Sloboda village.
Vacation Style Holiday Type

Activity Level

Fairly Easy
All about the Iran-Azerbaijan Tour.
Azerbaijan
Historically, the name Azerbaijan is said to a larger region that includes parts of Iran and Azerbaijan. This country is bordered by the Caspian Sea in the east, by Armenia in the west, by Iran in the south, and Georgia and Russia in the north. There is an Azeri autonomous region by the name of Nakhchivan which is enclosed within the Republic of Armenia, it also has small area bordered with turkey. The highest mountain in Azerbaijan is Bazarduzu Dagi with the altitude of 4,485 m.
This country has an area of 86,600 km² and is slightly larger than Austria.
The population of Azerbaijan was estimated 9.7 million in the year 2016. The main religion is Islam, and the majority of people are Shi'a Muslims.
Baku is the capital and the largest city in Azerbaijan. 90% of people speak Azeri and 2% of them speak Russian.
Iran
Throughout history, the land known as Iran was called the Persian Empire. The first powerful dynasty in Iran was the Achaemenid Dynasty which ruled over a vast land from 550 to 330 BC. The first and most important king of this empire was Cyrus the Great. After the conquest of Alexander While Darius III was the king the reign of this dynasty came to an end and the Greek and the Hellenistic period began. Then the Parthian Dynasty took control of the ancient Persian territory and ruled for nearly 500 years followed by the Sassanid dynasty reign until 661 AD.
The Arabs conquered Iran and introduced Islam to the people in the 7th century. There were more invasions, first by the Turks and later by the Mongols. In the early 1500s local dynasties took control over the land including the Afsharid, the Zand, the Qajar, and the Pahlavi.
In the year 1979, the Pahlavi dynasty was overthrown by The Islamic Revolution. Iran's government has since been used Islamic principles in its Constitution.
About Tour
On this incredible tour we go to Azerbaijan and Iran and see some of the major tourist attractions of these countries. We first spend a full day of sightseeing in Tehran. Then we visit Hamedan and its important monuments. Our next stop is Zanjan and we will visit Gonbad-e-Soltaniyeh. Then we arrive in Tabriz and spend three days sightseeing the main attractions. We drive to Nakhchivan ,visit St. Stephanus Church and other major attractions of this autonomous region. We fly to Baku, visit Baku's main attractions and also see the amazing view of Absheron Peninsula on the Caspian Sea. We visit the open air museum or Gobustan to see the rock paintings and the interpretive museum that illustrates the geologic changes that have occurred in the area. We will depart to Guba, visit Khinalig village and Krasnaya Sloboda village.
Day 1- Iran

Arrival in Tehran

Day 2- Iran

Tehran

Day 2: After breakfast, we will have a full day of sightseeing in Tehran. We will visit the Archaeological Museum displaying an authenticated collection of pre-historic and ancient artifacts with pottery dating back to 6-7 millennium B.C. Afterwards we will visit the Glass and Ceramics museum which houses a valuable collection of pre-Islamic and Islamic glass and ceramics, beautifully displayed in an elegant early 20th-century mansion. Our sightseeing day will end at the Golestan Palace, a complex of buildings and now museums of the Qajar dynasty in Iran. Dinner and overnight in Tehran

Day 3- Iran

Hamadan

Day 3: After breakfast, depart for Hamadan (319.4 km), to the west of Tehran. We will spend the rest of the day exploring Hamadan, visiting the Ganj Nameh, Alavid 14th century dome, Esther and Mordechai tomb and Jewish Pilgrim center, the Hegmataneh archaeological site of the Median Empire of the 6th century BC, and Avecina tomb. Dinner and Overnight in Hamadan

Day 4- Iran

Zanjan

Day 4: In the morning, go toward Zanjan (262.2 km) and visit the magnificent 14th-century Gonbad-e-Soltaniyeh, the tomb of Olijaytu, the last Mongol Ruler of Iran. The monument is important in many different aspects, such as its huge dome which is about 167 feet high and is considered as the second largest dome in the world. Gonbad-e-Soltaniyeh is one of the 13 UNESCO World Heritage sites in Iran. Overnight in Zanjan

Day 5- Iran

1st Day in Tabriz

Day 5: After breakfast we depart for Tabriz (306.8 km), en route visit sites in Maragheh. Maragheh is an ancient city situated in a narrow valley. The town is encompassed by a high wall ruined in many places, and has four gates. Two stone bridges in a good state and condition, is said to have been built during the reign of Hulaku Khan, who chose Maragheh as the capital of the Ilkhanate. Shortly thereafter became the seat of the Church of the East Patriarch Mar Yaballaha III. This place is surrounded by vast vineyards and orchards, all watered by the canals directing water from the river, and producing great quantities of fruit. The hills west of the town encompasses of horizontal strata of sandstone covered with irregular pieces of basalt. Continue on to Tabriz for overnight.

Day 6- Iran

2nd Day in Tabriz

Day 6: After breakfast we will go on a full day tour, visiting the Tabriz Bazaar, Museum, Blue Mosque and later a short excursion to Kandovan Village. The Blue mosque of Tabriz was built by the decree of Jahan Shah the monarch of Kara Koyunlu dynasty which chose Tabriz as the capital of his Kingdom. His territory covered major parts of modern Iran, Turkey, and Azerbaijan. We will then visit the small exquisite Azerbaijan Museum, and the Citadel. Later, our guide will lead us through the wonderfully constructed Tabriz Bazaar, second oldest in the world after the one in Aleppo, Syria another UNESCO World Heritages Site. The Silk Road passed through Tabriz; today silk, wool and cotton Tabriz carpets with figures on a pink background are a well-known export to France and Germany. Afterwards we will have a visit to the picturesque village of Kandovan to see an old village where people have cut their homes out of the volcanic rocks. Return to Tabriz for overnight.

Day 7- Iran

3rd Day in Tabriz

Day 7: Ghara Kelisa (literally meaning The Black Church) or The Saint Thaddeus Monastery, is an old Armenian monastery located on the mountanious West Azerbaijan Province of Iran, about 20 kilometers away from the city of Maku. One of the 12 Apostles, St. Thaddeus which is also known as Saint Jude, (not Judas Iscariot), was martyred while spreading the Gospel. He is respected as an apostle of the Armenian Apostolic Church. The original church was extensively rebuilt in 1329 after an earthquake damaged the structure in 1319. Nevertheless, some of the parts surrounding the altar apse date from the 10th century. A large part of the present construction dates from 1811 when Qajar prince Abbas Mirza helped in repairs and renovations. This structure duplicates the design of the cathedral at Etchmiadzin, just outside of Yerevan in Armenia. Return to Tabriz for dinner and overnight.

Day 8 - Azerbaijan

1st Day in Nakhchivan

Day 8: Drive to border and cross into Nakhchivan (172.3 km from Tabriz), Azerbaijan. Time permitting, we can stop and visit St. Stephanus, which is one of the oldest and most beautiful Armenian churches in the area (10-12 century A.D). The church that is named after St. Stephanus, one of the first Christian martyrs, is located in the green valley of Dareh Sham, some 15 km. west of the city of Jolfa. A thick, tall wall made of stones with seven watchtowers has provided a good protection for the church. On the facade of the church one can see pictures of Mary and Jesus, as well as angels and apostles beautifully carved on stones. At 14:30 we will meet our Azerbaijani tour guide at the Julfa-Nakhchivan border (1.5 hours drive from Tabriz). No lunch on this day – Pass to Azerbaijan side and visiting Ordubad town, then we drive to Nakhivan city, en route visiting Daridagh Arsenic Springs. Arrive in Nakhchivan City and check-in at Grand Naxcivan Hotel for having dinner and overnight.

Day 9 - Azerbaijan

2nd Day in Nakhchivan

Day 9: After breakfast at the hotel, we start our tour of Nakhchivan city. We will visit the Prophet Noah's Tomb complex, Imamzade, the 12th century Momina Khatun Monument, the 13th century Yusif Kuseyir oglu tomb, and the 18th century Khan's Palace. Lunch will be at a local restaurant. After dining, we drive to Kengerli and visit the 14th century historic Garabaghlar Monument, then we go to the Duzdagh Salt Mines (29.8 km from Kengerli) and Hospital – a Asthma bronchitis treatment health center. We will also visit the Asabu Kahf caves as known in the Holy Koran and other religious books as the "Seven Sleepers of Ephesus ".Drive back to Nakhchivan city for dinner and overnight at the hotel.

Day 10 - Azerbaijan

Nakhchivan, Baku, and Absheron

Day 10: Breakfast and check out, then transfer to Nakhchivan airport at 09:00. Our short flight to Baku is at 11:00 (takes around 1 hour)and we arrive in Baku at 12:00. We will meet our new driver and guide, then we will visit Merdakan Castle in the Absheron (15.5 km from Buku to Absheron). After lunch, we will go to Yanar Dag (Fire Mountain- 13.5 km from Absheron), a natural gas fire which blazes continuously on a hillside on the Absheron Peninsula on the Caspian Sea near Baku.  Next we will visit the Zoroastrian Ateshgah Temple, then continue to the Ramana Castle. We arrive in Baku for dinner and overnight.

Day 11 - Azerbaijan

Baku

Day 11: After breakfast at the hotel, we will set out for a tour of Baku. Our route through the city will take us to Martyrs Lane – a cemetery dedicated to those killed fighting against the Soviets, Dagistu Park where we will have a panoramic view of the city, then we proceed to Old City, or Icheri Sheher, for a walking tour. We will see Maiden Tower and the Shirvanshah Palace within the walls of the Old City. After lunch we will visit the Yashil Bazar, followed by the Azerilme carpet factory, and the Treasures of Azerbaijan at the Heydar Aliyev Cultural Center, designed by Zaha Hadid. Our tour will end with a 1-hour public boat tour of Baku bay (if weather is not windy and boats operate). Dinner and overnight in Baku

Day 12 - Azerbaijan

Baku and Gobustan

Day 12: Breakfast at the hotel, then depart to see some more of Azerbaijan's geologic wonders at the Mud Volcanoes. Afterwards, we will head to the open air museum or Gobustan (63.5 km from Baku) to see the rock paintings and the interpretive museum that illustrates the geologic changes that have occurred in the area and how they have impacted the people living there. We'll have lunch then continue sightseeing with a visit Bibi Heybat Mosque, built in the 1990's as a recreation of a 13th century mosque of the same name built by Shirvanshah Farrukhzad II Ibn Ahsitan II, which was completely destroyed by the Bolsheviks in 1936. Our next stop is at the Yarat Art Gallery and the H. Aliyev Foundation Art-Painting Center next to the Yarat Center, an art collective formed to promote local and international art. We will have dinner and then do some shopping in modern Baku. Overnight in Baku

Day 13 - Azerbaijan

Baku and Guba

Day 13: After breakfast, we will depart for Guba (168.0 km from Baku), and if necessary change to Russian Nivas.  Guba is located on the north-eastern hillsides of the Shahdag mountain on the Greater Caucasus Mountains 600 m above sea level on the bank of Gudial River 168 km away from Baku. Our first visit will be the unique mountain Khinalig village, at 2500 meters above sea level. The population of the village is a separate ethnographic group with its own unique language. We will tour the village then go to the city of Guba (or Quba) for lunch. After lunch we will visit the Guba Genocide Memorial, then continue on to the village of Krasnaya Sloboda which is a home to one of the largest Jewish communities in the region. The village is also known for its brightly painted homes. After visiting the village, and possibly trying one or more of the over 40 varieties of apples the region is known for, we will head back to Baku for dinner and overnight.

Day 14 - Azerbaijan

Departure

Day 14: Transfer to airport for your flight home.
Accommodation
Accommodation Types
Finding a proper place to stay during your trip is one of the most important preparations before traveling which should be carefully examined from different aspects. Because in case the traveler is not satisfied with the quality of accommodation a bad memory would remain in his/her mind. Stay while traveling means to reside for one or more days in a place other than our own house. One of the primery features of this accommodation is security. In other words the place of stay must have enough security that the tourists could easily relax and put their belongings in that residence. In addition, other facilities such as restaurant, dry-cleaning and the like are some of the necessities of a good accommodation. Therefore, various types of accommodations based on the amenities exist all over the world which the tourists can choose based on the need or the budget they have for their place to stay. These are some types of accommodation:
Hostel
This sort of accommodation doesn't have an age limit for reception, and is suitable for those who have a low budget for traveling. There are even single rooms with the minimum facilities required for a residence. Some of these hostels provide hot meals for the guests.
Hotel
The word hotel has a wide spectrum of meaning. Hotels based on their rate offer special amenities such as room services, laundry, and etc to their customers. In addition to meeting the needs of tourists, hotels have specific facilities for the families.
Capsule hotels
The idea of this type of hotel came from Japan in 1979 and today they exist in China and Singapore. This sort of accommodation is built of plastic or fiberglass in a singular size and is arranged on other cells like beehives. Each of these capsules is equipped with facilities such as a TV set and is a very good and proper choice and also a cheap accommodation for one night stay.
Bed and Breakfast
By staying in this type of accommodation which is common in the USA you go to local houses of each area and rent only one room from the whole building. This accommodation is economical and therefore is very common. The rooms are very similar to hotel rooms but they offer facilities at a lower price and you feel at home. The guests can even meet other people on breakfast table and start a conversation with them at the place.
Motel
A motel is another type of accommodation which is formed from the combination of two words "Motor" and "Hotel". This kind of accommodation was first built for motor vehicle riders. The rooms are close to each other and there is a vast space for the parking lot and of course it is cheaper than a hotel.
Guest House
This word has a wide spectrum of meaning and has different interpretations throughout the world. In some regions it has the same meaning as hostel, bed & breakfast, or caravan. In some regions they are similar to hotels but at a cheaper price. In some countries, it is said to rental houses which are given to the tourists privately. In this case, the owner lives at a separate place but near the guest house.
Resort
This type of accommodation is built near tourist attractions like beach, desert, national parks, ski sites, and so on and is suitable for tourists who want complete relaxation and refreshment during their stay. These resorts have distinguished facilities such as swimming pool, gulf field, tennis court and etc. In some cases the area of the resorts cover several hectares of land.
Timeshare
This kind of accommodation is said to an estate which is rented and shared by several individuals and is used by them alternatively in different periods of time. The right to rent, use or the possession in a determined time period is clear for each person. Meanwhile, cleaning and protecting the estate in each time period is obliged to the person owning the place at that period.
Hospitality Exchange
This type is one of the most interesting types of accommodation while traveling in which the tourist must personally contact the related organization or institute to make the necessary coordination with a local or volunteer individual to stay at that person's place. This kind of accommodation has a low cost and is the best option for people who travel on a low budget.
Caravan
Caravan is said to a small container vehicle which has all the necessary facilities for traveling and is attached to the vehicle. Caravan provides the possibility of residence and movement simultaneously. Some caravans even have the capacity of several people to stay.
Camping
It is the most popular and low-expense type of accommodation among young people in which the tourists tent, sleeping bag and other necessary tools are carried by the person and he/she ventures into the unknown.
Cottage/Villa Cottage
Cottage/Villa Cottage is an appropriate option for families who seek relaxation away from the crowd. It is so much bigger comparing to the hotel rooms and four people can stay there at the same time. Regarding facilities they have a kitchen, dining room, bed rooms, and etc and are more comfortable comparing to hotels or other options.
Dude Ranch
In the United States dude ranches are considered as seasonal accommodations in which you can experience the rural culture. During your stay you can even ride a horse in the wide pastures or go hunting in the forest or other areas along with the local guide.
Vacation Rental
Another economical type of accommodation for holidays is renting an apartment or villa. Most people travel in groups or by their family and tend to stay together. Therefore, renting an apartment or villa for a short time is so appropriate to these people.
House Sitting
The length of stay depends on the agreement between the landlord and the guest and he/she can stay for free based on the agreement and acceptance of part of the house keeping activities such as cleaning, gardening, pet keeping, and so on.
Not for all nationalities, unless you are a US citizen. Iranian visa for US passport holders is subject to particular regulations. At present the Iranian Foreign Ministry will only issue visas for US citizens to travel to Iran as part of a pre-booked, guided tour. That means US citizens cannot travel to Iran individually and they must be accompanied by a tour guide or a relative who can take full responsibility. Before the trip, you must send the itinerary in advance and follow it exactly. Due to these requirements, we recommend that it is better to apply 10 weeks before the travel date.
Guns and ammunition, alcoholic drinks, narcotics, , all horticultural and agricultural goods including seeds and soil; aerial photo cameras, transmitter-receiver apparatus, pornography, most films, cassettes, CDs and videos and any kind of fashion magazine. Of course, hunters who are travelling to Iran for hunting can get necessary permits for carrying their guns and ammunition via their travel agents beforehand.
Each trip is unique, and for determining what to bring it is better to consult the travel agency. However, these items are generally included: Clothes, phone charger, hair brush, camera, necessary pills, shampoo, towel, tooth brush and tooth paste, ear buds, nail clipper, map, and the like.
If your group wants to take some adventure on the trip linked to the activities or destinations in which we operate, please do not hesitate to communicate with us and we will try to create exactly what you desire. We are keen to help you in this way, as we have done in the past, this has pushed us forward towards making permanent tours based on your interests.
It is easy and simple. Just follow the four-step instruction:
Step One: choose your destination
If you are ready to begin your trip to Iran, we are ready to help. It is really important to do some research and decide where do you want to go and what you want to do according to your age and interest. Our travel specialists are ready to provide you with the information you need to make your decision. A variety of catalogs of trips to different cities with destinations and purposes are also available on our website.
Step Two: Send us a request
Tour packages are presented in four main categories: Cultural tours, Eco tours, Adventure tours, and Event tours. These packages have various destinations, duration and purpose to serve different interests. Just take an overall look at the travel packages and choose your tour. Remember that the prices can be modified according to the chosen standards of hotels and transportation. If you didn't find the package that interest you, contact and inform us about cities that you are interested in and the sites you want to visit (see tailor-made tours). We can make your dream trip come true.
Step Three: book your tour
After choosing your ideal package and specifying the number of travelers who come with you just set a date for it so that we can inform you of the required price of the package. Then a contract will be sent to you. Please print the contract, read it carefully, sign it and send us an image of the signed contract and images of the passports and of the tour participants via e-mail. Payment procedure will be announced at the time of booking.
We have made this process easy for you. An information form will be sent to you by the agency. Return the filled form with an image of your passport attached to it. Leave the rest to us. You can get your visa in 10 working days. Your visa fee is 35 USD.
For more information take a look at our Visa page
Two different payments are required. One is the visa application fee which you send off with your visa application form. The other is the payment for collecting the visa from the Iranian embassy in order to get the visa stamped into your passport. If you post your passport to the embassy there will be an extra charge to post it back to you by recorded delivery. Its cost is not fixed and varies in different parts. It's better to call the Embassy in your country.
Yes, there are several newspapers in English. Most of the times, there are available at hotel lobbies.
Iranian visa for US passport holders is subject to particular regulations. In a way that US passport holders cannot travel to Iran independently. US citizens are required to travel on escorted tours; either as part of a group, or on a tailor-made individual tour. An exact itinerary, to which you must follow is needed to be submitted in advance. So, make your travel arrangements at least 10 weeks before your planned travel date.
Those who have been to Iran know about the quality and variety of Persian kebabs and stews. There are different types of restaurants. You can find new spices and herbs you haven't seen before, but Iranian dishes are not as spicy as the Indian foods. A moderate amount of them is added to the food just to make it more delicious. As there are not genetically modified vegetables and fruits in Iran, they taste the old flavors. The meat served in the restaurants is usually chicken, fish, lamb, and veal. Of course, you can find quail, turkey, and shrimp too, but no frog, pork, snake, dog or other sorts. It is prohibited to eat them in Islam and this is observed everywhere. The vegetarians can find cooked or raw vegetables at hotels and in restaurants. However, it is better to inform your tour guide about this matter so he could arrange it for you.