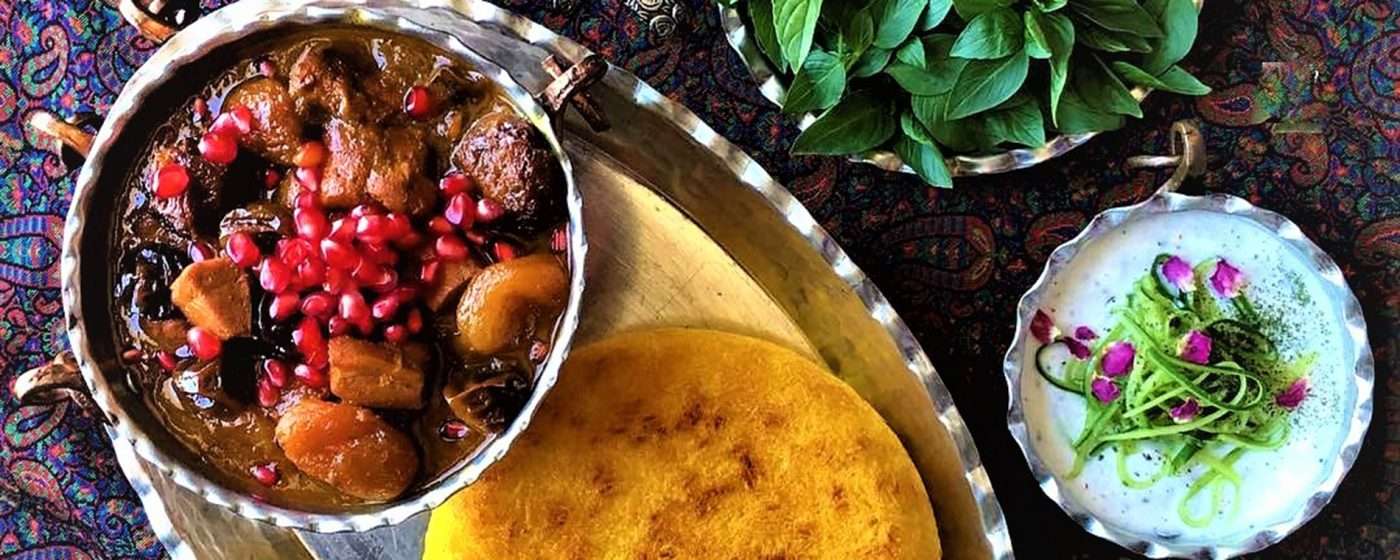 Persian Food
Information About Persian Cuisine
Persian Food
When you think about traveling to Iran, the first thing that may come to your mind is the architecture, the beautiful mosques, and the Caravanserais along the Silk Road.
But the Persian food hasn't gotten much credit since it's a bit unknown. You might think food and gastronomy are not an important part of the everyday life of Iranian people. I go to say that your assumption is wrong.
In fact, you should travel to Iran and discover what this country has to offer. Apart from hospitality, you will enjoy a variety of food made with love and patience. And when I say patience is because mama has spent a lot of time making these delicious dishes.
There are dishes that you don't want to miss such as Ghormeh Sabzi, different types of Kabab, Abgoosht/Dizzy (which you should do some rituals in order to eat this food!), Gheymeh, Chelo Mahiche, Ash Reshteh (a sort of thick soup), Mirza Ghasemi, Kaleh Pacheh (if you want your food staring back at you!), and many other foods that have evolved until now.
Feel free to order anything you want because they may be as delicious as the above-mentioned dishes. But if you know a Persian mama let her take the wheel because no restaurant can cook that for you!
Most Persian dishes are served either by cooked rice or bread and Iranians eat their stew, Kabab, and Ash either by bread pieces or cooked rice. It is also worth mentioning that there are many types of Kabab or Ash, and when we say Ash Reshteh it falls under the category of Ash.
Take a look at the following Iranian dishes:
Abgoosht
Ingredients:
lamb
chickpea
white beans
dried lemons
onion
potato
tomato paste
lemon juice
turmeric
water
and a bit of seasoning
Ghormeh Sabzi
Ingredients:
lamb
kidney beans
cilantro
parsley
fenugreek
turmeric
dried lemons
lemon juice
and some water
Koofteh Tabrizi
Ingredients:
split yellow peas
rice
ground beef
chives
tarragon
leek
savory
walnuts
eggs
dried apricot
dried barberries
turmeric
chili pepper
and salt
Kabob Koobideh
Ingredients:
Meat
Onion
Pepper
Salt
Special Kabab spice
Ash Reshteh (A Thick Persian Soup)
Ingredients:
kidney beans
chickpeas
Kashk
parsley
dill
coriander
spinach
onion
garlic
Persian noodles
turmeric
salt
black pepper
Bademjan Shekam Por
Ingredients:
Eggplant 6
Mince Meat 300 g
3/1 cup rice
2 tablespoons canola oil
1 cup chopped onion
2 cups tomato
1 sour lemon
1 glass of Chopped parsley
Salt and black pepper to the extent necessary
Koufteh Shami
Ingredients:
400 g lean ground beef
Chickpeas 3 cups
Egg 1
2 to 3 tablespoons dried thyme
Enough chopped walnuts and raisins
Salt, turmeric, pepper, and oil (for frying) to the extent necessary
Chickpea flour to the extent necessary
Meygou Polo
Ingredients:
Shrimp 300 g (20)
Rice 2 cups
1 medium onion
Fenugreek and Coriander 150 grams
Turmeric 1 tsp full head
Pepper ½ tsp
Dal Adas
Ingredients:
Red lentils: One and a half cup
Crushed garlic: 3 cloves
Chopped onion 1 large number
Potatoes: 2 medium
Tomato Paste: 2 tablespoons
Oil, salt, pepper, and turmeric to the extent necessary
Tamarind: 1 cup
Ash-e Tarkhineh
Ingredients:
Tarkhineh 250 grams.
1/2 cup peas.
1/2 cup beans.
1/2 cup of lentils.
Onions 4
Herbs(Leek, parsley, cilantro, spinach) 500 g
Dried mint and whey necessary amount
Qeyme Boushehri and Shekar Polo
Ingredients:
Chickpeas 250 g
1 medium onion
Cuff meat half a kilo of
Tomato paste 2 AH G.
1 medium potato
AH eighth cinnamon stick
Turmeric 1 AH (g)
Lime powder 1 AH G.
Saffron
Salt
Qalyeh Meygou
Ingredients:
Shrimp: 500 grams
Vegetables, including (Coriander: 250 g _ Fenugreek: 50 g)
Garlic: a full head
Onions: 1 large number
Extract Hindi cream: 1 cup
Flour: 2 tablespoons
Oil, red pepper, salt
Fish seasonings (garlic powder, ground coriander-chili- black pepper
Lelok / Gemene / Gandom-e koobideh
Ingredients:
Lelok 2 glasses
1 Medium onion
A teaspoon turmeric
Cinnamon and salt to the extent necessary
Necessary amount of water, usually two times of lelok
Yatimak
Ingredients:
Eggplant: 3,
Turmeric salt and pepper: to the extent necessary
Oil: the necessary amount
Onions: 1
Hindi diluted cream: 1 cup
Cowpea: 150 g
Water: 1 cup
Dampokht-e Mahi
Ingredients:
3 average pieces of milkfish
Cowpea 100 g (optional)
Coriander finely chopped 150 g
Finely chopped fenugreek 1 tbsp
Tamarind dissolved into a full glass of water 1
1 large onion and finely chopped
5 cloves garlic, finely chopped
1 cup water
Tomato paste (for taste) 1 tbsp
Spice turmeric and a little dried fish and dried limes to the extent necessary
Salt and pepper to the extent necessary
Koufteh Nokhodchi
Ingredients:
Lamb mince: one kilo
Onions: two
Eggs: four
Chickpea flour: five to six tablespoons
Aromatic vegetables including houseleek and parsley to taste
Salt, pepper, and turmeric enough
Beh Alou Yazdi

Ingredients:
250 g soaked plum
split peas, half a cup (75 grams)
Sliced onion 1  (140 g)
Frying oil to the extent necessary
thigh chopped meat of lamb or calf 400 g
Turmeric powder 1 tablespoon (6 grams)
Saffron pulverized and dissolved in boiling water 1 tablespoon (14 ml)
In a split second number (520 g)
Tomato paste 2 tablespoons (30 grams)
sugar 3 tablespoons (39 grams)
lemon juice 2 tablespoons (28 ml)
Black pepper powder and salt as necessary
ginger powder ½ teaspoon
Koufteh Lappe Yazdi

Ingredients:
Aromatic herbs 350 g
Half cup raisins
Split peas, 350 g
Barberry cup
4 tablespoons fried onions
Raw eggs 4
5 boiled eggs
Mince one kilo
Salt and seasonings some
2 tablespoons tomato paste
Qeymeh Yazdi
Ingredients:
Chickpea Chickpeas 500 g
One large onion
Solid oil or butter two tablespoons
Minced meat 600g
Salt, pepper, turmeric, and saffron to the extent necessary
Hot bulbs to decorate the two tbsp
Qalyeh Kadou
Ingredients:
Red beans  50 g
vetch  150 grams
Squash peeled 350 g
Oil  100 g
3 tablespoons fried onions
Salt, pepper, and turmeric in sufficient quantities
Sugar 100 g
Cinnamon  1 teaspoonful
Walnut and Coconut  to the extent necessary
Ash-e Abqoure
Ingredients:
Half cup of pinto or red beans
Half cup of lentils
Half cup of rice
Herbs 0/5 kg
Mince 200 g
1 tablespoon tomato paste
A tablespoon dried mint
2 medium onions
Salt and pepper and turmeric to the extent necessary
Verjuice to the extent necessary
Ash-e Gandom
Ingredients:
Spinach2000 g
Peas 120g
White beans 120g
120 g
Lentils 120 g
Bean 120 grams
Onions 5
Wheat 250 g
Oil 200 g
Some pepper
Some salt
Ash-e Shouli
Ingredients:
one and half a kilo herbs(Half of it spinach and the other half: leek, parsley, and some branches of fenugreek)
Beet: Two large number
Onion: three
Mint: Two tablespoons (dry)
Flour: one and a half cups
Lentils: a glass
Oil: to the extent necessary for frying onions and mint
Salt: to the extent necessary
Turmeric: two teaspoonful
Vinegar
Khoresh Havij / Carrot Stew
Ingredients:
Slice carrots 1 kg
Half a kilo of muscle meat
Onion 1
Tomatoes 3 to 4
2 to 3 dried lemons.
Broth half a glass
Salt, pepper, turmeric, cinnamon, saffron, to the extent necessary
Oil enough
Ash-e Gildik Azari
Ingredients:
Jonquil (Gyldyk) 500 g
Herbs 1 kg
250 g minced meat
Grated onion and waterless 40-50 g
Peas, cooked cannellini bean (can be used cowpea) 1/2 cup
1 cup of rice
1 cup dried apricots
1 cup seedless tamarind
1 cup walnuts
A desired amount of salt and pepper and turmeric
Fried onions and mint (to decorate soup) desired amount
Tas Kabab and Morq
Ingredients:
Meat 400g
2 medium carrots
Zucchini 2
Eggplant 2
Potato 3
Tomato 2
Onions 2
Stew prunes 10
1 tablespoon lime powder
1 spoonful of cinnamon
Salt, pepper, and turmeric to the extent necessary
Reshteh Polo – Khoresh Torsh-e Qeymeh
Ingredients:
Finely chopped meat: 500 g
Cowpea: 1/3 cup
Fried onions: 1/2
Verjuice: 1/2
Tomato paste: 1 AH spoonful
Salt, pepper, and saffron
For the rice:
2 and 1/2 cup rice
Rice Noodle: 100 g
Chiqiritma-ye Morq
Ingredients:
3  boneless chicken legs
1 medium onion
3 bars of butter
4 large ripe tomatoes
3 eggs
salt to the extent necessary
peppers (red and black)
Pichaq Qeymeh
Ingredients:
2 tablespoons tomato paste
100 g almonds. Onions 2
300 grams of meat
Pepper. Cinnamon necessary amount
Eggs necessary
2 tablespoons lemon juice
Ash-e Miveh / Fruit Broth
Ingredients:
350 g broth noodle
Tiny meatballs with ground beef, onions, salt, and pepper: 200 to 250 g
Apricot halves, yellow plum, plum, Prunus: for every person in every 3 to 4
Cherry: a quarter cup
Beets, peeled, and chopped small cube: If you want 2
Peas: One-third cup
Beans: One-third cup
Lentils: half cup
Tomato paste: 1 tablespoon
Turmeric and salt and pepper to the extent necessary
Onion to cook with beans: 1
Fried onion to the soup: to the extent necessary
Vinegar: The necessary amount
Shami Rashti
Ingredients:
400 grams of lean meat of sheep
5 eggs
40 g split peas
Two medium onions
½ tsp turmeric
Salt and pepper to the extent necessary
Bademjan Kabab
Ingredients:
Average eggplant 5
1 cup walnuts
1 onion
Tomato paste 1 tsp
chopped fresh herbs (basil. Mint. Houseleek) 1 cup
Pomegranate or plum sauce/paste 2 tbsp
Qalyeh Esfenaj
Ingredients:
meat: 250 g
Cowpea: 50 g
Chickpeas: 50 g
Lentils: 50 g
Fresh spinach: a kilogram
Small onion: 2
Mint: 100g
Cheese: 2 cups
Oil, salt, and pepper: Sufficient
Khoresh-e Nardun
Ingredients:
Medium egg
The pomegranate tart or sour 350 g
Medium onions 3
Pomegranate 2 tbsp
Black Sugar (If pomegranate is too sour)
Garlic (if a duck or goose is) 3-4 cloves
Plum if desired
Salt, pepper, turmeric
Kebab-e Torsh
Ingredients:
Mutton or beef 500 g
Walnut minced 100 grams
Pomegranate sauce 3 tablespoons
Onions 1
2 cloves garlic
1/2 cup olive oil or liquid
Parsley. Coriander. Satureja. 3 tablespoons chopped tarragon
Salt and pepper
Morq-e Fesenjan
Ingredients:
Local duck or chicken
pickled walnuts
frayed (pomegranate sauce, tomato paste),
seasonings
Borani Bademjan / Grilled Eggplant
Ingredients:
10 big eggplants
1.5-2 garlic cluster
1 kg of yogurt
1 small bunch of herbs (Shushaq, Khalvash, Mint), dry or fresh
Salt and pepper to the extent necessary
Kal Kebab
Ingredients:
4 big eggplant
Half cup juice of sour pomegranate/ sour grape/ pomegranate seeds
1 soup spoon herbs(mint, Khalvash, and Shushaq), dry or fresh
Some garlic cloves
Salt and pepper to the extent necessary
walnuts 75g ground
Vavishka/ Sour Chicken
Ingredients:
2 chicken breath
2 medium onion
1-2 teaspoon black pepper
Salt to the extent necessary
2 soup spoon sour orange juice
Kuku-ye Morq
Ingredients :
Chicken 1.500 kg
10 eggs
1 onion
1 teaspoon baking soda
Saffron, salt, pepper, angelica, and turmeric to the extent necessary
1-2 soup spoon Lime juice
2 soup spoon tomato paste
1 cup Chicken broth
1 clove garlic
Shesh Andaz-e Bademjan
Ingredients :
walnuts 250g minced
A cup of grated onion
5 average eggplant
pomegranate sauce ½  cup
Salt to taste
Anar Aviij

Ingredients :
1 kg chicken chopped
2/1 2 cups of ground walnuts
2/1 2 cups chopped herbs (houseleek, Coriander, Mint, and parsley)
2 cloves garlic
2 cups pomegranate juice
1 large onion
Salt and turmeric to the extent necessary
3 eggs
2 soup spoons pomegranate sauce
2 cups of water
Sir Qalyeh
Ingredients :
3 leaves of fresh garlic
1 medium onion
3 eggs
A cup of split peas
Half a chicken or duck (small size)
Salt, pepper, and turmeric
Ku'ie Tareh
Ingredients :
Squash: half the number
Garlic: Three Cubes
Walnut: 150 g
Pomegranate sauce and tomato paste and sugar (each, two tablespoons)
Salt, pepper, turmeric, angelica, and spices, plus water to the necessary extent
Shesh Andaz
Ingredients :
walnuts (split)  250g
A cup grated onion
Average-size Eggplant 5
Pomegranate paste ½ cup
Salt
Torsh-e Tareh
Ingredients:
herbs (parsley, coriander, spinach, leeks, beets)
rice
raw garlic
pickle (Pomegranate or sour orange juice)
green plums
egg
seasoning
Mirza Qasemi
Ingredients:
Eggplant
Tomatoes
Garlic
Eggs
seasoning and tomato paste
Baqelaqatoq/ Baqela stew
Ingredients:
stewed beans/Pache Baqela
dill(dry or fresh)
raw garlic (garlic leaves)
eggs
spices
oils
Bastokh/ Uremia sweet
Ingredients:
150 g non-powdered starch
1 cup grape Syrup
Cardamom (powder) 1 teaspoon
Rosewater 60 ml
walnuts (split) some for decoration
Yatimcheh
Ingredients:
8 cups chopped eggplant 200 kcal
4 cups chopped tomatoes 100 kcal
25 calories a cup of chopped onion
5 tablespoons butter 450 kcal
Salt and Saffron to taste 0 kcal
Ash-e Doogh
Ingredients:
Grains: ½ cup
Rice 4-5 spoon
Coriander and spinach( each a medium bunch) and a bit of chard
Peas: 1 cup cooked
Flour 1 tablespoon
Egg: 1
salt and pepper
Yogurt: 4 cups
Ash-e Kalam
Ingredients:
White cabbage, chopped 1 kg.
1 cup of cooked pinto beans
1 tablespoon chopped mint
2 tablespoons chopped parsley
Half cup bulgur wheat
Soup rice (half-seed or pollen), half cup
Two tablespoon tomato paste
Two liters of broth (chicken or an alternative such as pills)
1 tsp red pepper powder
Turmeric 1 tsp
1 cup sour grape water
Non-chopped pepper to the desire
2 tablespoon oil
Urmia Shorja
Ingredients:
Yogurt (waterless) 1 kg
Egg 1
Dry saffron
Hot onion 1 cup
Cooked minced meat 500g
Broth 1 cup
Salt and pepper to the extent necessary
2 tablespoons cornstarch
Urmia Stew
Ingredients:
Meat 400 grams
Pinto beans 2 cups
1 onion
Eggplant 2
Tomato 2
Potatoes 2
Half-cup of sour grapes
½ teaspoon saffron
2 tablespoons butter
Salt to the extent necessary
Pepper to restoration
Oil to the extent necessary
Gouzlameh
Ingredients:
3 cup of yogurt
4 eggs
4 cloves garlic
Enough oil for frying eggs
Salt to the extent necessary
Alu Mosamma/ Plum Stew
Ingredients :
chicken: for each person a piece
plum halves: 2 to 3 per person
plum black: 2 to 3 per person
Onions: 2
Sugar: 2 soup spoons
Turmeric: some